---
Toronto at Your Service
Keeping #TorontoStrong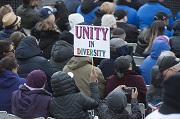 Thank you to everyone who attended the #TorontoStrong Vigil and/or generously donated to the #TorontoStrong Fund in support of the victims and all those affected by the tragic events that took place on Yonge Street in April. There is still time to donate to the fund, which has already raised more than $3.2 million. Rouzbeh Heydari, an award-winning documentary filmmaker and Toronto resident, captured the emotion of the #TorontoStrong Vigil in this video.
Time to register for summer recreation and after-school programs!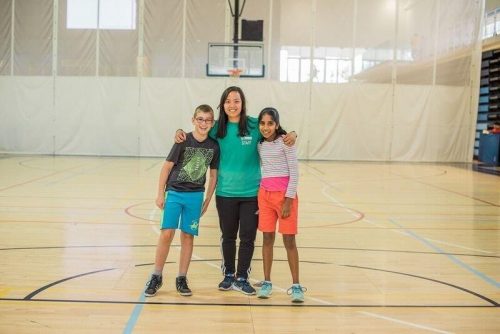 Registration for summer swim and skate programs begins at 7 a.m. on Saturday, June 9 for Etobicoke York and Scarborough and on Tuesday, June 12 for North York and Toronto and East York. Registration for After-School Recreation Care (ARC) starts at 7 a.m. on Monday, June 18 for the 2018/19 school year. Registering online is the fastest and easiest way to sign up for programs. Build your wish list online at the FUN Guide section of the City's website and get ready to register.
NEW: Update your mailing address online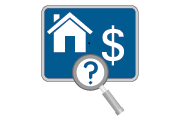 Need to forward your tax or utility bill to a different address? The City has launched a new way to update your mailing address from a computer or mobile device. Use the Property Tax Lookup tool to update your address anytime, anywhere. It's easy, quick and convenient! Mailing addresses are updated within 48 business hours. If you prefer to send in your change of mailing address request, you may submit it by mail or fax.
New weekend TTC service to Bluffer's Park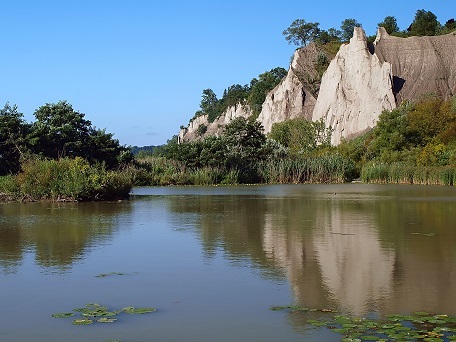 Beach season is almost here and the Bluffer's Park weekend bus service makes it easy to enjoy all that summer has to offer. The 175 Bluffer's Park bus runs from Kennedy Station to Bluffer's Park Beach every 15 to 20 minutes on weekends and holidays between 8 a.m. to 10 p.m.
Photo: Bluffer's Park
Design a Bookmark Contest celebrates art and kids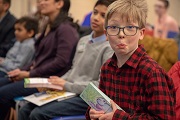 The winners of Toronto Public Library's popular annual Design a Bookmark Contest were announced in April. The contest, which celebrates art and kids, received about 7,000 entries this year from budding young artists aged 13 and younger. The winning bookmarks will be printed and distributed at all 100 TPL branches and at select bookstores around the city, including Mabel's Fables and TYPE Books.
---
Get Involved
Toronto municipal elections news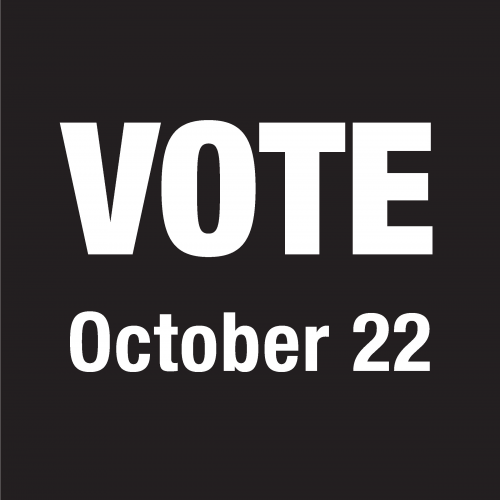 Nominations for mayor, councillor and school board trustee are open now. Residents can view a real-time list of candidates running in their ward at MyVote. It's easy to stay up to date about the 2018 municipal election on the City's website.
Becoming a candidate
A "Becoming a Candidate" information session will be hosted on June 19 from 7 to 9 p.m. at Toronto City Hall, Council Chamber. Anyone interested can register by emailing candidateinfo@toronto.ca or calling 416-338-1111.
Voting place staff needed
Reliable and dedicated voting place staff are needed on Election Day, Monday, October 22. Apply now
Data stories on the new Open Data Portal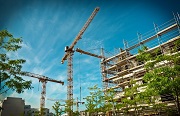 Open data has unlimited potential – and when we use it to tell stories, we learn more about the City we live in and how services are delivered to the community. Data Stories is a new feature offered on the City's Open Data Portal. The current feature story is about patterns, trends and anomalies found when analyzing Building Permits. Stay tuned for more!
Share your resilience story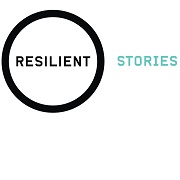 To help develop the City's Resilience Strategy, the Resilience Office is asking Torontonians to share their stories of how they experience resilience in their daily lives. Resilience is the capacity of a city to deal with day to day chronic stresses such as traffic or housing issues, as well as shocks such as major storms and flooding.
What kinds of shocks and stresses do you experience or have you experienced?
What about your community?
What resources or networks do you draw on to help cope with these challenges?
How can the City better support you?
You can also contribute to Toronto's Resilience Story by suggesting key events, issues or stresses that have occurred throughout Toronto's history.
---
Your Toronto
Toronto remembers D-Day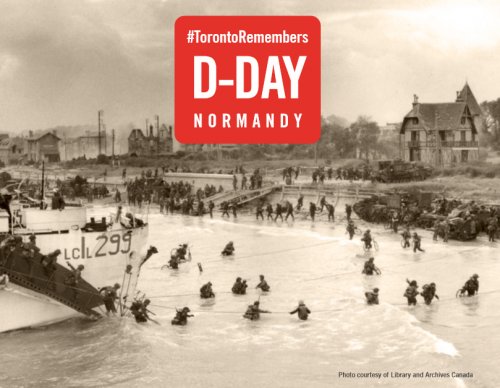 The City of Toronto honours those who served their country with annual ceremonies to mark D-Day and Remembrance Day. This year's D-Day ceremony takes place on June 6 from noon to 1 p.m. on Nathan Phillips Square. Join members of Toronto City Council in honouring those who fought, sacrificed and served, such as Trooper Ed Stafford, who grew up in Toronto and served in Italy and Holland during the Second World War.
Pride Month in Toronto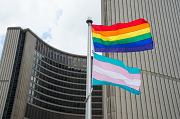 June has been proclaimed Pride Month in Toronto! From June 1 to 24, there are many events taking place around the city culminating with the annual Pride Parade on Sunday, June 24. Pride Month-related events can be found online using #PrideTO. Follow the hashtag to join the conversation.
Sunrise Ceremony at City Hall on June 21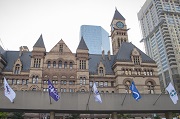 In recognition of Indigenous Peoples Day, the City will host a Sunrise Ceremony on Nathan Phillips Square at City Hall starting at 5:30 a.m. on Thursday, June 21. For generations, many Indigenous people and communities have celebrated this day as it falls on the summer solstice. Members of the public are welcome to attend the ceremony. An Indigenous Arts Festival will also take place at Fort York from June 21 to 24.
Endangered Amur tigers return to Toronto Zoo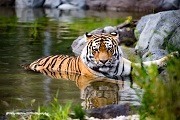 Visit the Toronto Zoo this summer to see the endangered Amur tiger, returning after a five-year absence. And, if that's not enough to entice you, there's a new Wild Rouge Zipline and Canopy Tour, as well as the new Aldabra Tortoise Outdoor Exhibit! Or you might be interested in taking a guided tour of the Zoo's new state-of-the-art Wildlife Health Centre, the first of its kind in Canada. Learn more about what's going on at the Zoo by checking out the Special Events Calendar and Zoo Education Programs
This summer at the Archives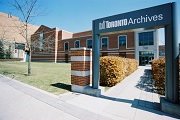 Visit the City of Toronto Archives this summer and experience the post-war suburbs through the exhibit Wide Open World: A Celebration of the Suburbs in Toronto. While there, stop by the community wall documenting the stories of the People of the Green Line, Torontonians living along a hydro corridor that is being turned into a park, trail and community space. And don't miss the Toronto History Lecture in August. The Toronto Archives is now on Instagram. Follow @toronto_archives for rich historical photos and compelling behind-the-scenes content.
---
Environmental Initiatives
Find water leaks and save with MyWaterToronto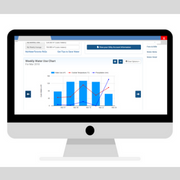 A leaky toilet can waste up to 20 cubic metres (or 20,000 litres) of water daily, which can add more than $75 to your utility bill each day. MyWaterToronto, the City of Toronto's online water use tool, offers a convenient way to identify leaks, better understand your water use and look for ways to save. You will need your utility account information to log on and check your usage.
Projects to reduce greenhouse gas emissions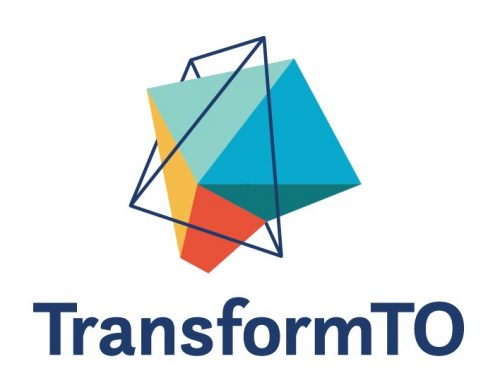 The City is initiating 10 major projects to reduce greenhouse gas (GHG) emissions from buildings, vehicles and waste – the largest sources of GHG emissions in Toronto – as part of its TransformTO Climate Action Strategy. Supported by $52 million from the Province of Ontario's Municipal GHG Challenge Fund, the projects include the purchase of electric TTC buses, building a net-zero emission child care centre, installing a geo-exchange system at the St. Lawrence Market North Building and establishing a facility to upgrade biogas (naturally produced biofuel from processing Green Bin organics) into renewable natural gas. Learn more about the TransformTO projects.
Toronto's new Pollinator Protection Strategy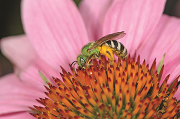 The City has adopted a Pollinator Protection Strategy to support the more than 360 species of bees, 100 species of butterflies and other pollinators that call Toronto home. Some species are in decline due to habitat loss and other stressors. With a focus on habitat creation and supporting native pollinators, particularly native bees, the strategy identifies actions the City and residents can take to help pollinators, including planting pesticide-free, native, pollinator-friendly flowers, trees and shrubs. More information and tips to create a pollinator-friendly garden is available from Live Green Toronto.
---
Awards and Accolades
Volunteers in long-term care homes recognized for their commitment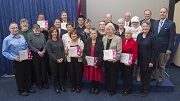 Long-Term Care Homes & Services recognized the following with Excellence in Volunteering Awards for the positive impact they have on residents in City-operated long-term care homes: Jean Roy (Bendale Acres), Bill Hu (Carefree Lodge), James Kinney (Castleview Wychwood Towers), Karen Grainger (Cummer Lodge), Gloria Wright (Fudger House), Luba Nickerson and Jean Brown (Kipling Acres), Elio Donatucci (Lakeshore Lodge), Nancy Gleason (Seven Oaks), Roman Catholic Worship Group (True Davidson Acres), Perla Orara (Wesburn Manor) and Joan Barltrop (Divisional Award). Kipling Acres resident and volunteer Jay Poot received the Mary Ellen Glover Award. Learn more about the awards and how to become a volunteer.
Photo: Recipients of Excellence in Volunteering Awards, presented by Long-Term Care Homes & Services.
Long-Term Care staff wins Prix Francophile award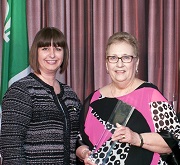 Congratulations to Bendale Acres Administrator Marg Aerola for receiving the Prix Francophile award, one of three Ontario Francophone awards presented by Marie-France Lalonde, Minister of Francophone Affairs. Marg was selected for her leadership in fostering the Pavillon Omer Deslauriers, a 37-bed unit within Bendale Acres where French-speaking seniors receive care and services in their chosen language and cultural surroundings.
Photo: Marie-France Lalonde (left) with Marg Aerola, recipient of the Prix Francophile award.