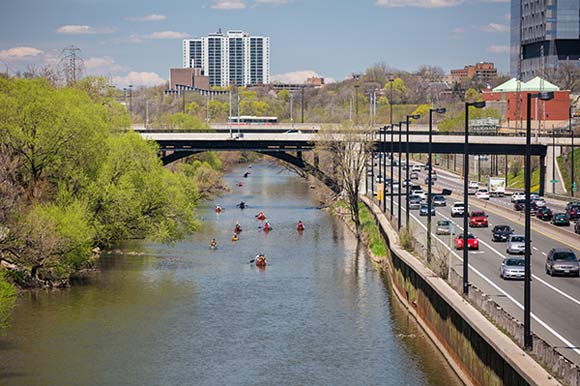 Nina Ignaczak —
Although the frozen landscape surrounding Ontario cities in early March seems as though it may never thaw, longer days are already here. Soon, the ice and snow will melt away, and the rivers, lakes and wetlands surrounding the city will flow once more. And when Ontarians finally venture out-of-doors this spring, the Humber, Don and Rouge Rivers originating in the Oak Ridge Moraine region north of the city will wind their way through downtown neighborhoods, providing opportunities for fishing, paddling and quiet reflection. The Grand River and its tributaries will flow through the Kitchener and Guelph areas, while the Credit River will flow through Mississauga to its mouth at Port Credit and finally into the blue waters of Lake Ontario. These waterways afford the Toronto region the very best of cosmopolitan life combined with the natural beauty of the Great Lakes.
Source: Land Information Ontario Urban watershed boundaries of Ontario's western Lake Erie region. What is a watershed?   And yet, urban Ontario's water resources have been heavily altered by human development. Traditional engineering methods have left the region with a water system that is disconnected and fragmented; surface water is separated from groundwater, streams and lakes are dammed and overloaded with polluted stormwater, basements flood with alarming regularity, and communities struggle to maintain affordable municipal water rates. Water infrastructure—sewers, water lines, treatment facilities—are aging and in need of expensive repair. And on top of all that, water systems are governed by fragmented oversight, with many governments, agencies, utilities and groups involved.   In short, the water system of Greater Toronto is fractured—so split apart from its natural state that it cannot function without ever-more expensive, heavily engineered systems.     Many urban waterways are disconnected from the natural environment with "grey infrastructure" like stormwater pipes. Source: Toronto Region Conservation Authority.   But forward-thinking citizen advocates, conservationists and government officials are working together to chart a new course, one that is turning the dominant water management paradigm on its head. They are transforming how cities think about drinking water, wastewater, and stormwater systems, evolving from a mindset that views each system in isolation toward a more holistic, sustainable and efficient municipal water system, one that can restore urban ecosystems while saving money.  
A Fractured System   Kitchener resident John Jackson is a longtime citizen advocate and project manager with the Great Lakes Commission. He is leading a project funded by the Great Lakes Protection Fund that is designed to help raise awareness among municipal officials about the financial and economic benefits of managing municipal water systems holistically. The Greater Lakes: Reconnecting the Great Lakes Water Cycle project is working with six municipalities—three in Ontario and three in Michigan—to evaluate how they might reduce their environmental impact and decrease their costs by better integrating how they manage their drinking water, wastewater and stormwater systems.   In Jackson's view, the disconnect among municipal water department staff is the first chasm that must be bridged before progress can be made toward reconnecting water systems.   "Municipal water supply officials are not communicating with sewerage or stormwater officials," says Jackson. "We need to work hand-in-hand with engineers, planners, and operators in municipalities and utilities, as well as our Conservation Authority partners."  
Better coordination among the multiple agencies and individuals who manage water across the region is critical to making better decisions, according to Jackson.   "Within municipalities, drinking water, wastewater and stormwater are often treated as if they were completely different things. If we want to find the solution, we have to start understanding them as part of the same cycle," says Jackson. "We need to be planning all components of the cycle at once. So when we're planning a sewage treatment plant, we have to be asking 'How is that going to reinforce our water supply?'  Or, 'Are we conveying stormwater into a pipe that is going off to a river or a lake, when it could be going back to recharge the groundwater aquifer from which we source our drinking water?" It's a system, and we need to be making those decisions together."
The Earl Bales Stormwater Management Pond creates an ecological landscape feature to protect the West Don River. Source: City of Toronto Green Infrastructure   One way of reconnecting watersheds is to use "green" infrastructure to treat stormwater runoff from hard surfaces in urban landscapes like parking lots, rooftops and roads. Such an approach works to mimic the natural water cycle by absorbing stormwater into the ground near where it falls, as opposed to piping it off to a nearby river or lake.
Because it relies on natural materials such as soil and plants, green infrastructure is generally cheaper to implement than traditional "grey infrastructure" like pipes and large detention basins, and may even extend the life of grey infrastructure by reducing the burden on the system.   Graham Harding, director of water infrastructure management for the City of Toronto, says both approaches are needed.   The city considers green infrastructure to be an important part of its stormwater management strategy. Harding points to the several green infrastructure initiatives implemented as part of the city's 2003 Wet Weather Flow Master Plan. Toronto was the first city in North America to adopt a green roof bylaw in 2009, requiring large-footprint buildings to incorporate green roofs to help absorb rainwater and reduce the amount of discharge into the municipal storm system. In addition, the city has developed a set of design guidelines to green up surface parking lots, and is implementing a "green streets" pilot program to reduce roadway runoff by incorporating bioswales and increasing tree planting in public rights-of-way. 
"When it comes to water quality, green infrastructure can really help," says Harding. "But it does not play as large a part in addressing quantity issues. In terms of larger storms, we look at the sizes of pipes and number and placement of large stormwater ponds and storage tanks to help avoid basement flooding."   Jackson would like to see green infrastructure implemented more aggressively, and believes it can reduce the need for grey infrastructure in many cases.   "Many engineers still look at green infrastructure as a nice addition to the system, and not as a core component of the way in which we deal with stormwater," says Jackson. "But green infrastructure can actually reduce the need for such large stormwater pipes. And that's not just important for the environment, but also for the municipal pocketbook. Big engineering projects have big dollars attached to them. Green infrastructure, by its nature, requires less intense engineering and is less expensive."     Water Efficiency   Several large municipalities in Canada rely almost exclusively on groundwater for their potable water source. Guelph and Waterloo are among these, and are two of the fastest growing municipalities in the region.   Wayne Galliher is manager of technical services for the City of Guelph, and serves as a member of the Greater Lakes Project Advisory Committee. The growing city has set a goal to reduce municipal water consumption by 22.5 percent by 2025.   "Our master plan recognizes water conservation as a preferred source for future capacity," says Galliher.   The city encourages an array of water efficiency measures. It offers rebates for more efficient toilets and washers, incentives for rainwater harvesting, and free landscape consultations to help homeowners consume less water as well as generate less stormwater. The city also offers incentives to new construction projects that exceed the water efficiency standards required by the Province of Ontario, and to industrial customers that reduce their water use through measures like substituting grey water for potable water in industrial processes.   Steve Gombos is manager of water efficiency for the region of Waterloo, which encompasses the cities of Kitchener, Waterloo and Cambridge and surrounding townships, as well as a member of the Greater Lakes Project Advisory Committee. He says these efficiency programs do more than just save water; they save money.   "From 2015 to 2025, we're going to save $3 million a year through our efficiency measures," says Gombos. "Our whole program is focused on deferring capital infrastructure through water conservation. We've already saved approximately $100 million in capital costs through deferring big infrastructure projects."     A green street project in Missisauga's Lakeview Neighbourhood absorbs stormwater runoff from roadways. Source: Credit Valley Conservation Authority   Towards Healing Fractured Water: Integrated Management   Christine Zimmer is the senior manager of watershed protection and restoration for the Credit Valley Conservation Authority (CVCA), one of 36 nonprofit conservation authorities in Ontario. Funded primarily by municipalities, Conservation Authorities work closely with local governments to protect natural resources.   "We are watershed managers," says Zimmer. "We represent the natural resources; forests, water, wetlands, and fish species."   Zimmer also serves on the Greater Lakes Project Advisory Committee.  
The CVCU is at work on a Water Sustainability Guidance book to help municipalities improve their ability to conduct integrated water management. The project is part of a new requirement under the Province of Ontario's Water Opportunities and Water Conservation Act of 2010, which will require municipalities to adopt water sustainability plans that integrate water, wastewater, and stormwater infrastructure to encourage better decision making.   "What we're finding in urban areas is that we aren't mimicking the natural water cycle," says Zimmer. "So during rain events, we have higher stream flows, even if we are using stormwater ponds. And because the landscape is all paved, we can't infiltrate that water into the ground. So, during dry weather, we have lower stream flows. That impacts wastewater treatment plants, because there is less flow in the stream to dilute the effluent. It also impacts potable water treatment, especially if you source from groundwater, because you have less water going into the ground to maintain your groundwater."   According to Harding, it all comes full circle.   "In Toronto, we draw our drinking water from Lake Ontario," he says. "If we can improve the quality of the wastewater and stormwater going into Lake Ontario, it will help our intake treatment plants when the water is drawn back out. Everything moves together." This piece is made possible through a partnership with the Great Lakes Commission through the Greater Lakes project, with support from the Great Lakes Protection Fund.